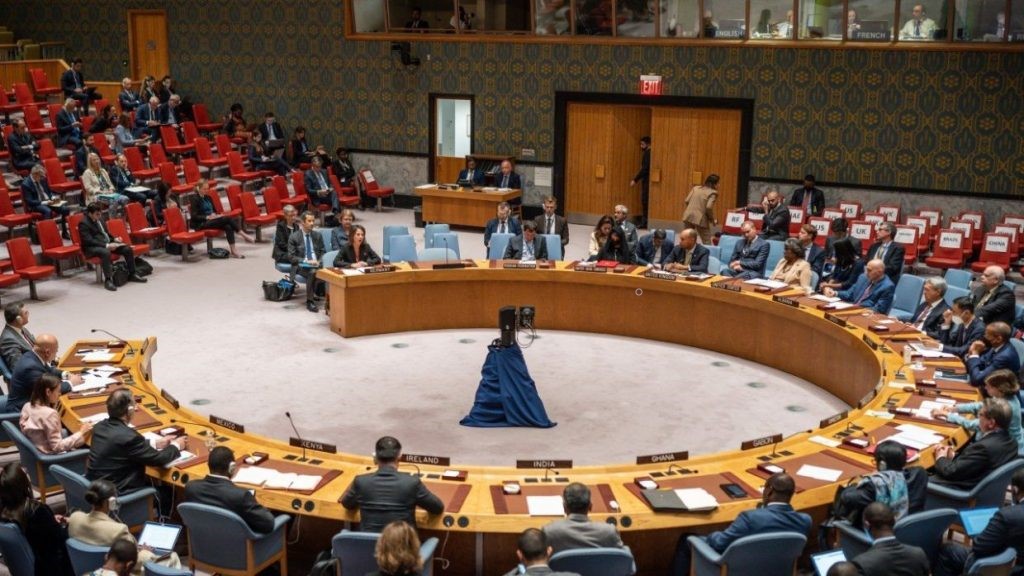 Journalists gather beside the collapsed Kaoliao bridge in eastern Taiwan's Hualien county on Sept 19, 2022, following a 6.9 magnitude earthquake on Sept 18.
UN Security Council members condemn Russia's continued invasion of Ukraine
Russia faced withering criticism in a UN Security Council meeting on Thursday, with most members calling on the Kremlin to end its war against Ukraine, while China and India avoided direct references to Moscow.
No resolution was offered and no vote was taken, because as a permanent member of the council, Russia would have vetoed it as it did with one on February 25, the day after it invaded Ukraine, which called for its immediate withdrawal of all troops.
Even so, French Foreign Minister Catherine Colonna, who currently holds the council's rotating presidency, called the meeting – billed as "maintenance of peace and security of Ukraine" – during the annual United Nations General Assembly in New York.
Do you have questions about the biggest topics and trends from around the world? Get the answers with SCMP Knowledge, our new platform of curated content with explainers, FAQs, analyses, and infographics brought to you by our award-winning team.
Assembled on short notice, the council session followed Russian President Vladimir Putin's announcement on Wednesday of a "partial mobilization" of military reservists along with a vow to use "all the means at our disposal to protect Russia".
Diplomats and analysts regard the comment as a veiled threat of a nuclear response to the setbacks the Russian military has suffered in Ukraine, raising the urgency to put Russia in the spotlight.
Russian occupation officials in four regions of Ukraine declared shortly before Putin's address that they would stage local referendums on annexation by the Russian Federation, further heightening concerns.
"The idea of nuclear conflict once unthinkable has become a subject of debate. This in itself is unacceptable," said UN Secretary-General Antonio Guterres at the start of the three-hour meeting. "All nuclear-armed states should recommit to the non-use and total elimination of nuclear weapons.
"I am also deeply concerned about reports of plans to organize so-called referenda in areas of Ukraine that are not currently under government control," he said. "Any annexation of a state's territory by another state resulting from a threat or use of force is a violation of the UN Charter."
IAEA passes resolution calling on Russia to leave Ukraine nuclear plant
US Secretary of State Antony Blinken was among the most pointed in criticizing Putin, along with British and most European delegates. He called for investigations of the killings and torture of Ukrainian civilians in regions vacated by Russian soldiers.
"Even many nations that maintain close ties with Moscow have said publicly that they have serious questions and concerns about President Putin's ongoing invasion," he said, an apparent reference to last week's Shanghai Cooperation Organisation summit in the Uzbek city of Samarkand, which Putin attended along with Indian Prime Minister Narendra Modi and Chinese President Xi Jinping.
Modi told Putin during the summit that it was "not a time for war", while Putin acknowledged that Xi had "concerns" over the Ukraine conflict.
"That President Putin picked this week, as most of the world gathers at the United Nations, to add fuel to the fire that he started shows his utter contempt for the UN Charter, for the General Assembly, and this council," Blinken said.
Chinese Foreign Minister Wang Yi declined to name any countries except Ukraine in his comments; he said that "the sovereignty territorial integrity of all countries should be respected" and "the purposes of the principles of the UN Charter should be observed".
However, Wang added: "Investigations into violations of the international humanitarian law should be objective and fair based on facts rather than an assumption of guilt and without being politicized."
India also avoided referring to Russia, and instead called attention to food shortages and other impacts that the war is inflicting on developing countries.
Russia and US clash over the West's weapons for Ukraine
"We have all experienced its consequences in terms of surging costs and actual shortages of food, grains, fertilizers, and fuel," Indian External Affairs Minister Subrahmanyam Jaishankar told the council.
"And that is why India strongly reiterates the need for an immediate cessation of all hostilities and a return to dialogue and diplomacy," Jaishankar added.
Russian Foreign Minister Sergey Lavrov, who entered the council meeting just before his address and left shortly afterward, turned every indictment lodged against Putin back onto "the collective West".
"What's particularly cynical here is the position of states that are pumping Ukraine full of weapons and training their soldiers," Lavrov said. "The goal is … to drag out the fighting as long as possible despite the victims and destruction to wear down and weaken Russia. That policy means the direct involvement of the West in the conflict and makes them a party to the conflict.
"The intentional fomenting of this conflict by the collective West remains unpunished." Japan urges 'vital' UN reforms as Ukraine war threatens rules-based order
Belarusian Foreign Minister Vladimir Makei, who was the only non-Russian delegate to defend its actions in Ukraine, attributed the conflict to Western countries that have supported sanctions against Moscow.
"The massive sanctions pressure by the West has led to indirect consequences that have had a devastating impact on our region," Makei said.
"Belarus has often warned about the dangers of … degrading the security structure that was formed over many years," he added. "Unfortunately, we were not heard, the tragic result of this arrogant position is what we're seeing today in Ukraine."
Ukrainian Foreign Minister Dmytro Kuleba, among the last of the 21 delegates at Thursday's meeting to address the council, graphically described the civilian bodies, including those of children, Ukrainian forces found in Izium when they recently retook the city.
He expressed confidence that Ukraine would prevail against Russia by contrasting the extent to which his countrymen were devoted to victory, compared to the soldiers attacking his country.
"On February 24 when Russia attacked Ukraine from all directions within the first 24 hours, tens of thousands of Ukrainians returned from abroad to defend their country," he said.
"And what happened within the first 24 hours after President Putin announced mobilization? Thousands of Russians booked international flights to leave Russia."